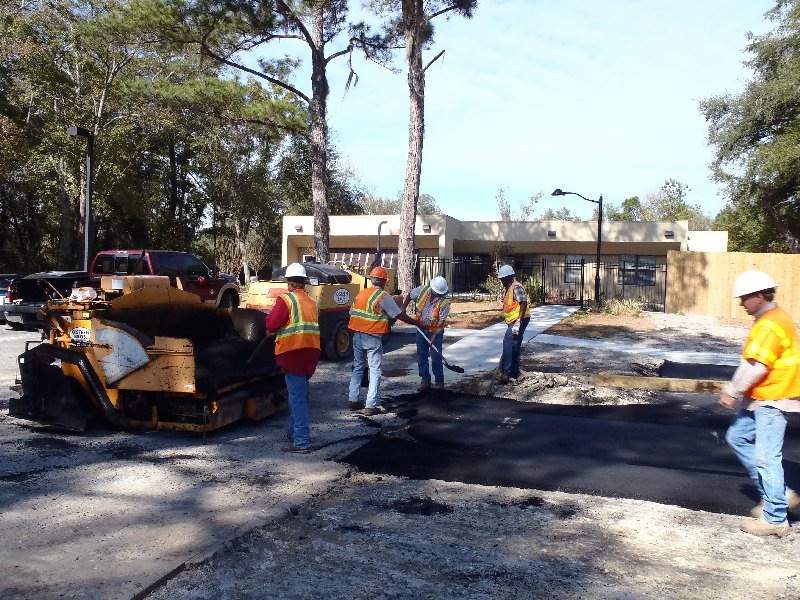 Residential and Commercial Asphalt Paving Services
Asphalt paving is the process of covering a roadway, driveway, parking lot or other surface with asphalt pavement. Asphalt pavement is made up of 95% stone, sand, or gravel bound together by asphalt cement. Asphalt is 100% recyclable which makes it better for the environment. Recycled asphalt is stronger, last longer and has a better rut resistance than virgin mixed asphalt. We recycle asphalt millings at our archer sand pit and also use it for existing construction projects.
We are a full-service asphalt paving contractor providing driveway, roadway and parking lot paving services for new paving projects, resurfacing and repairs. Repairs can include filling pot holes and cracks in the asphalt. We will evaluate your project and provide recommendations on the best course of action to reach your project goals. Asphalt is composed of sand and gravel blended with asphalt cement that is spread and compacted to create a smooth road surface. Asphalt commonly is used for driveways, parking lots and roads. Asphalt pavements are designed to be durable, long lasting and affordable and are 100% recyclable and eco-friendly. Since all of the materials are recyclable, asphalt can be dug-up and reused again keeping materials out of landfills which is better for our environment. Asphalt paving requires little maintenance, takes less time to install, cures faster and provides a smooth black surface that generates less noise.