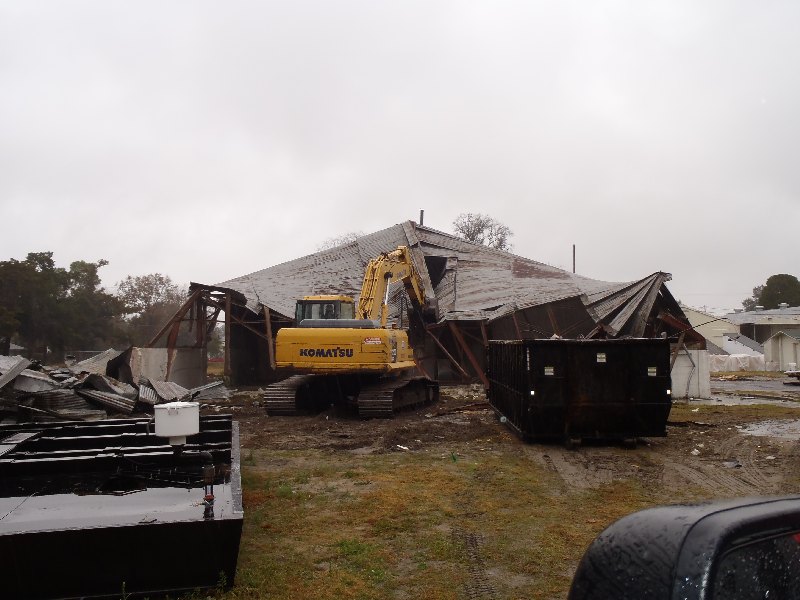 Demolition Services
O'Steen Brothers is one of the primary commercial construction demolition contractors in the Gainesville, Florida area and we take pride in doing the best quality work possible. We work with many of the major general contractors and national corporations in the Gainesville area. Our experts have over 45 years of experience and are confident we can handle your commercial construction demolition project. Our team works on construction demolition projects of almost any size from small office buildings to large commercial strip malls.
When considering the start of a construction demolition project, it is important to identify potential issues that could arise. We've found that some older buildings may require an environmental audit to determine the presence of asbestos or other regulated materials. Those materials will need to be removed by a licensed environmental contractor prior to the start of your demolition project. We will help make those arrangements for you to ensure that the demolition on your construction project is done correctly and within the regulations.
Regardless of the size of your project, construction demolition will require heavy construction equipment. We own a variety of heavy equipment including excavators, loaders, graders, dump trucks and bulldozers that we use to complete the job. Our team of Equipment Operators are experienced and know the right steps to take to make sure the demolition is done safely. After the demolition is completed the debris will need to be removed. Hauling off and properly disposing of debris can be expensive and time consuming. That's why we haul away any trash, junk, natural waste, or debris and leave you with a property ready for the next phase of your project. We have our own Archer Sand Pit and can easily recycle any natural debris and unsuitables. Any construction waste will be hauled to a construction waste recycling facility.
We are licensed and insured and have the experience to complete your commercial construction demolition project on schedule while exceeding your expectations. Call O'Steen Brothers to get an estimate for your next construction demolition project.