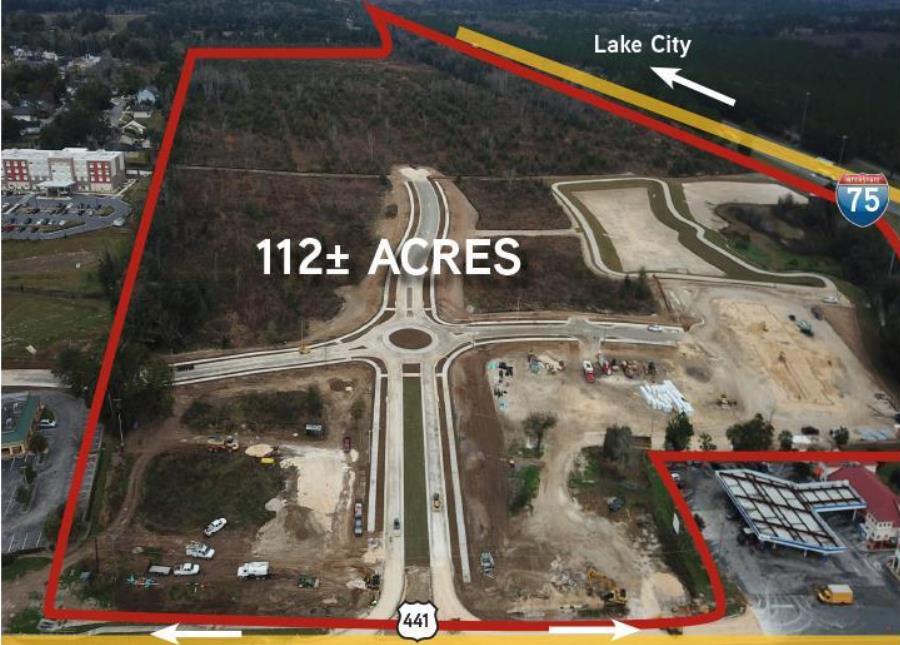 Commercial Construction Site Work Services
Construction site work is the work done before the building or structure is built. This includes land clearing, grading, excavating, installing septic tanks, filtration systems, driveways and underground utilities.
When starting any construction project, the first thing to do is to assess the construction site. Construction site work preparation is very important in assuring the success of your project and creating a solid foundation for your building. With over 45 years of experience, you can trust O'Steen Brothers to properly evaluate your construction site work preparation needs and understand what it takes to complete your project. O'Steen Brothers is the leading construction site work contractor in the Gainesville, Florida area and we have the experience to complete your project on time and within budget. We work with your plans to correctly identify the scope of work and provide recommendations for a successful project outcome. Then we outline your expectations and make a plan to reach your goals based on the project timeline. That way everyone knows what to expect and the project is completed correctly and on-time.
You must have the right equipment to complete the construction site work and we have a variety of heavy equipment to handle any size project. Our team of Equipment Operators will use excavators, dozers, loaders and dump trucks to remove as much dirt as needed to meet your site preparation goals. Then we will grade and level the area to assure it is prepared for the next stage. We make sure that all of our work complies with the local building codes and OSHA safety standards. O'Steen Brothers site work construction services include excavating, grading, land clearing and grubbing, demolition, trenching, leveling, asphalt paving, concrete paving, dumpster pads, curbing and sidewalks.
Here are some of the services that are provided.
Excavation – We have experienced equipment operators that can handle your excavation project. They will remove excess rocks and soil from the construction site that is unsuitable for the project. Sometimes dirt can be reused and we will work to reuse as much material on a project as needed to avoid having to haul it offsite.
Clearing and Grubbing – We use large excavators and dozers to remove trees, shrubs, stumps and any vegetation from the jobsite. Then we use a loader to put all the debris into a dump truck and haul it off the jobsite. We have an Archer Sand Pit where we can recycle all the landscape debris and unsuitable dirt.
Subgrade Stabilization – This is the process of stabilizing soil levels below topsoil. It is very important to identify the soil types and determine the need for subgrade stabilization to make sure the soil is stable for the foundation. Soil stabilization prevents the soil beneath the foundation from shifting or caving which could cause foundation cracks or structural damage. We take a soil core samples and analyze the types of soil at each level to better understand the need for stabilization. Then we remove the unsuitable dirt and replace it with archer fill dirt (builders sand), stabilizer and lime as needed and compact to the proper level.
Shoring and Erosion Control – Shoring and erosion control is the process of protecting the construction site from weathering, erosion and possible collapse of trenches. Proper shoring and erosion control help to ensure the safety of the jobsite, materials and equipment. There are many things such as the amount of rainfall, wind, severe weather and any local environmental factors that can affect the shoring and erosion control needs on the jobsite. We take into account all the factors affecting the construction site before we make a plan to control sedimentation and stormwater runoff. One of the most common ways of containing sediment and stormwater runoff is to install a silt fence. The silt fence will hold soil and sediment on the jobsite while also allowing water to flow through. We will evaluate your jobsite and provide a recommendation as to the best technique to use for shoring and erosion control.
Dewatering and Drainage – Understanding the drainage for the project is important to control the water and runoff on the jobsite. There are many systems to get rid of excess stormwater. We can recommend the right system for your project once we have had a chance to evaluate the jobsite and understand the specific needs and surrounding area.
Call O'Steen Brothers for all of your construction site work including demolition, land clearing, excavation, and grading.